Lead Generation Techniques in Real Estate: 8 Examples To Learn From in 2019

By
Alejandro Esteve de Miguel Anglada
·
6 minute read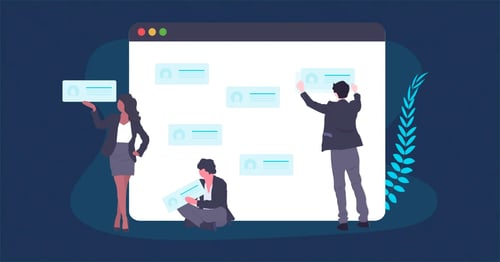 Every agent knows the real estate industry is competitive. Employing creative lead generation techniques is critical for real estate professionals wanting to keep their heads above the crowd. In this post, we'll look into a few motivational lead generation techniques for real estate, and explore how they work to reel more clients in.

Build that social proof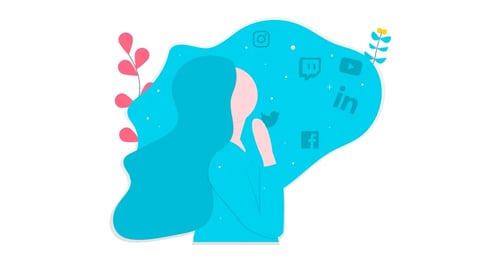 Building social proof is important in many industries, but it can be especially crucial in the real estate sector. Not only are agents are expected to be personable and trustworthy, but also have extensive knowledge about real estate listings and pricing.
There's no better way to do this than highlighting accomplishments on your website, blog or social media accounts.
I love celebrity real estate agent Eklund Gomes' website, which features a banner slideshow at the top of the page to spotlight the spectacular properties the team has closed. It also features high-quality and sharp team photos, and images highlighting just how much they've sold - 1.5 billion in 2018! This gives potential leads who visit the page an idea of what the firm can do for them, and demonstrates they know their stuff.
But let's face it: not everyone is a celebrity agent. Home Sweet Heidi, a small North Carolina-based agency has also got their act together when it comes to their website and social media. They were named by Hubspot as one of the best real estate agent websites in 2019. Their website features blog content, client testimonials, and also an Instagram feed. Here, Home Sweet Heidi posts photos featuring clients outside their new houses to congratulate them.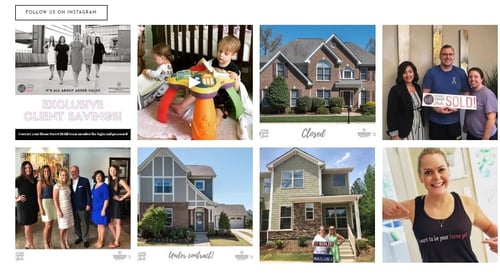 It's a simple technique, but it demonstrates that the agency is genuinely excited they've helped families to their dream homes. Plus, the new homeowners often comment on the photos to thank the agency for a job well done - so it's a great way to collect testimonials.
Home Sweet Heidi also thanks and tags the people who referred the new homeowners to the agency - making them feel appreciated and perhaps, more likely to refer leads in the future. And for Home Sweet Heidi, building up their social proof has definitely paid off. The agency was featured on HGTV's House Hunters in April this year!
Try out Video Live Streaming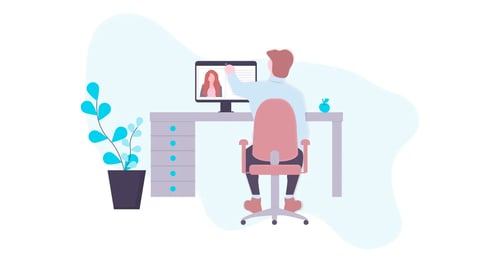 Video is a powerful marketing tool, and using Facebook Live or Instagram Stories as a platform can be one of many great lead generation techniques for real estate.
With it, real estate agents have the opportunity to provide a sneak peek into open houses to garner the public's interest. Or, they can highlight a neighbourhood where lots of listing are available.
And the best thing about it? It's interactive. Viewers can slide right into a real estate agent's DMs should they have any questions.
The videos can work to nurture existing leads, but also generate new ones - the more viewers comment and like with the videos, the more they'll show up in other people's feeds. Agents, of course, can also leverage local hashtags to gain more viewers.
Using live video streaming platforms, there's also a great opportunity for current homeowners or tenants participate in the video - after all, they're the ones who know the most about the property! Check out this Facebook Live video by online real estate agency Housesimple. It features a UK woman personally giving a tour of her home, and answering leads' questions as they come in.
And last March, Real estate platform Homesnap released a new tool called Homesnap Stories, which enables agents to create video or photo stories - similar to Instagram stories - to market properties. The tool shows agents who viewed the stories, and also posts the stories to Facebook and Instagram for maximum diffusion.
Host unusual educational events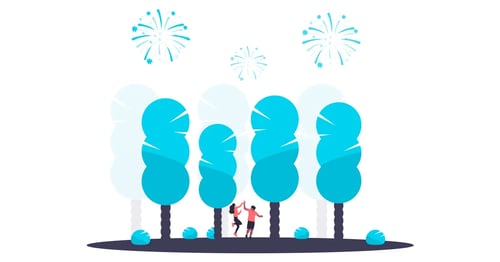 Buying a home can be scary, especially for first-time buyers. Hosting free educational events, on the other hand, can help potential buyers to feel more at ease about the process. It also helps real estate agents to build relationships with people in the community and gather a list of potential leads.
And while many real estate agencies are privy to hosting events, there are some ideas that make them stand out from the crowd. For example, hosting a pet adoption event is a great way to not only give back to the community, but meaningfully engage with pet lovers and leads. It's something American real estate franchise Coldwell Banker has been doing since 2015.
In fact, they've helped 20,000 pets find new homes. And while certainly not the only objective, real estate agencies that facilitate pet adoptions can also leverage their charity work in advertising campaigns. Check out Coldwell Banker's TV commercial Old Dog, New Dog, for example.
There's also the opportunity to host experience-based events that show off the neighbourhood. Thinking about hosting a cultural or art event at a local outdoor patio, for example, or at a park with a great children's playground. Showing potential leads what a neighbourhood has to offer is a great way to get them interested in a property and make them more engaged.
And if your real estate agency is in for a make-over, why not turn your entire office into an educational space where potential clients feel welcome to drop in at ease?
I love this idea from the legal industry, which could also be applied to real estate: last year, a legal cafe called Lawyers and Lattes opened up in Toronto - and yes, it's exactly as it sounds. The firm doubles as a trendy cafe, making clients feel more comfortable to seek legal advice. Free advice is also given on a monthly basis.
Embrace content marketing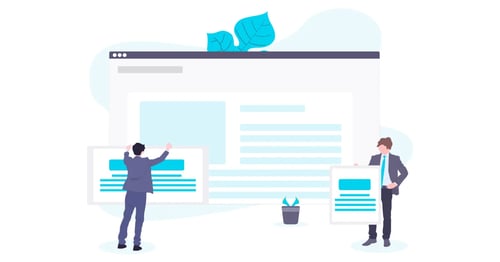 Content marketing can be a great lead generation technique for real estate agents. Think about developing a podcast, for example: there's plenty of ways you can make it engaging, especially for local listeners. You might want to interview an historian to learn more about a heritage house in the area, for example, or speak to a financial planner about advice for new homebuyers.
On the other hand, you could also produce a podcast designed for real estate professionals - just as The Massive Agent Podcast does - which can demonstrate to potential leads you are a thought-leader in the industry.
Real estate agents should also consider creating blog content to get plenty of SEO traffic. For example, the Rochester Real Estate's blog breaks up its content into resources for buyers and for sellers.
There's even the opportunity to start a YouTube channel. Take a look at celebrity real estate agent Josh Flagg's channel, for example. It can be a little goofy, however he uses it to give tours of luxury homes and really bring the audience in.
Benefit from real estate platforms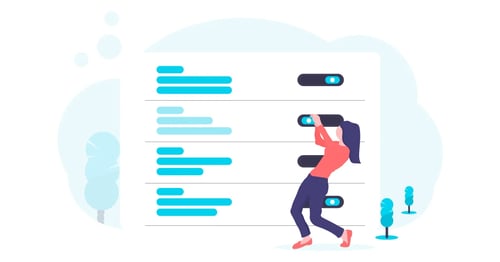 In a recent blog post on being competitive in the real estate market, we explored a few smart technology ideas for agencies in 2019. One tip we offered was to leverage real estate platforms for lead generation.
There's plenty of platforms to choose from. HomeSnap, for example, claims nearly 1 million U.S. agents use their Pro service to publish and advertise listings, nourish new leads and schedule showings.
There's also an online platform called Parkbench, which works to generate real estate leads in a completely different way. It's a neighbourhood website which provides local news content, but is sponsored by real estate agents. The agents interview local business owners, which as the Parkbench website explains, "provides you with an opportunity to learn about your prospect, candidly probe for their needs, and generate word of mouth that will drive more leads your way."
It's definitely a unique way to generate leads - and according to this company case study, it works. Within just a month of using the platform, two real estate agents in Avon, Indiana were able to gain 4 referrals and sold 2 properties.
Leverage lead generation tools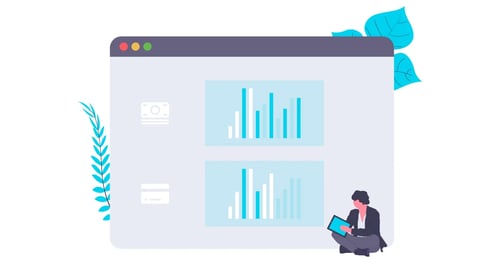 Leveraging a lead generation platform is another great technique - and there's plenty of powerful ones on the market today. BoldLeads, for example, targets leads exclusive to zip codes via Facebook advertising and Google Ads, and puts them into a CRM for agents to nurture and track.
And to discover more niche listings, I suggest trying REDX, which finds leads using records and databases for foreclosures, expired listings, For Sale By Owner (FSBO) and For Rent By Owner (FRBO) properties.
And the platform claims to have plenty of success stories - from agents that've been able to learn $300,000+ using the tool, to others who ended up getting five listings in just two days. If you're interested, you can check out these stories here.
Try influencer marketing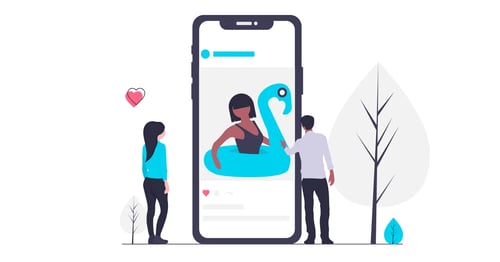 With the rise of shows like Million Dollar Listing, which follows the lives of young and attractive real estate agents in major American cities, we've seen real estate agents turn into celebrities that boast large social media followings and some big influence.
With some very hard work, real estate agents without television contracts can certainly become influencers on their own, through building out their followings and demonstrating their social proof online.
However, agents can also choose to partner with other, already established influencers to help them sell their listings. Perhaps the home you're selling has a tennis court or pool - why not ask a local health influencer to lead a class on the property and post about it online? Or, maybe the home has an incredible kitchen - why not invite an influencer chef to shoot their next cooking video at the home? Or host a photoshoot?
There's tons of great possibilities.
Constantly improve the customer experience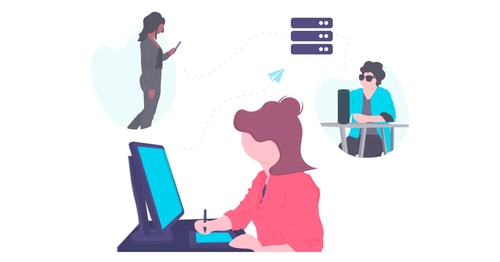 There is no better way of getting referrals, increasing conversion rates and improving your reputation, than changing the customer experience to the better. Think of the pain points your prospects and customers have and various inconveniences they might face while interacting with your company.
Use the ideas listed above to make them a little bit happier! Digitize their buying process with online property excursions and digital signatures, provide a faster response with such proptech innovations, as document automation software, and inspire them with your articles and videos about the neighbourhood.
The list of potential improvements could be endless; To start, talk to your existing customers and map up their buyer journey. Then, search for potential gaps and opportunities!
I hope you've enjoyed these creative lead generation techniques for real estate - and they've inspired you to try some out on your own!