What is document automation software & why is it important for your business?

By
Alejandro Esteve de Miguel Anglada
·
4 minute read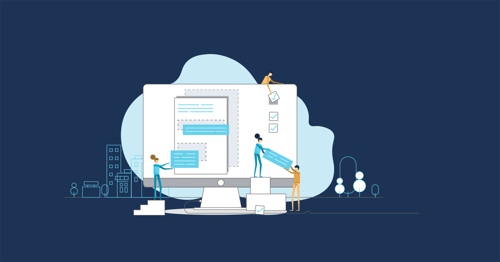 Your business is growing, and that's great news. But with more clients, also comes more paperwork and contracts. You might have heard that document automation software can help you scale your business, but you're not quite sure how.
Doing business the old way means less time spent building meaningful relationships, and more time spent writing explanatory emails, amending new clauses, reviewing for errors – and following up with clients to scan, print and sign the documents. It can be a real business burden, and even put a dent on the bottom line.
And that's where legal technology, and specifically - document automation software comes in. The software supports businesses to manage contracts using automated documents, digital signatures and real-time analytics in the cloud, which helps teams to reduce risk, work more efficiently and provide better customer service. Intriguing, right? Well, let's dive in.
How can document automation help businesses thrive?
In lots of ways! Document automation:
Prevents errors
Increases your team's efficiency
Saves thousands of work hours each year
We all know that completing legal documents quickly and accurately is absolutely vital - a simple drafting error cost one London law firm £2 million. So just imagine producing a high-profile M&A agreement riddled with mistakes, or pasting the wrong name into a public deed? It happens - and when it does, things get complicated. Luckily, document automation software helps companies to avoid situations like these.
"It increases efficiency; businesses complete contracts 91% faster and can save up to 307.200€, according to our research."
The software can be used by companies in a range of industries. However, it is particularly useful for businesses that produce contracts on a daily basis – think law firms, in-house lawyers, corporate lawyers, notaries or realtors, for example.
Below we'll explore the features included in most document automation products, and how they're helping these businesses to get ahead.
Key features of document automation software
Automated documents
Drafting complex contracts manually is a recipe for error – especially when you're producing several contracts a day. However, once you automate your documents you can completely avoid copy and pasting errors. Instead of going through your templates clause by clause, adding or removing data, you can use dynamic forms to input what you need – taking just minutes, rather than hours.
Account managers or sales reps can also share these forms with their clients to get the required information. The forms can be simple too, so clients don't have to be subjected to any legal jargon. This means they won't need to spend hours going back and forth via email or phone.
Overall, automated documents provide a more positive experience for clients from the start. And instead of wasting time on repetitive tasks, they give team members more time to focus on real business solutions. In fact, our own data shows businesses leveraging document automation software for 500+ contracts a month saved them about 13.000 hours annually.
Digital signatures
Electronic signatures are in full compliance with European and American regulation – under the eIDAS regulation in Europe and The Uniform Electronic Transaction Act (UETA) and the Electronic Signatures in Global and National Commerce Act (ESIGN) in the U.S. They're included in document automation software to keep the contract management process fully streamlined, reducing the need for clients and employees to print, sign and scan the documents by hand.
Of course, this draws obvious benefits. For one, it increases efficiency; businesses complete contracts 91% faster when digital signatures are involved, according to our research. It also speeds up the sales and onboarding process – meaning there's less chance of losing a client early on. And finally, digital signatures are actually more secure than traditional paper transactions. This is because information such as who signed the document, as well as where and when they did so, can be traced down the line.
Collaboration tools
Lawyers are notorious for keeping dozens of paper files stacked and scattered across their workspaces. But as one would imagine, important documents and contracts organized this way is far from ideal – and can be highly inefficient when working in a team environment.
On the contrary document automation software helps businesses to keep contracts all in one secure place, enabling multiple team members to work on them and revise them. Most products enable businesses to control team access and editing permissions based on job title, as well as keep track of editing history and measure the sales process. And once a deal closes, all the team members who need to know about it are alerted.
Real-time analytics
Here's another reason files scattered across a desk should cause despair: they don't collect real-time analytics. Good document automation products provide businesses with data they can use, and helps them to see where each contract stands at all times. This reduces stress levels, and makes it less likely for miscommunication to occur between employees. Because hey, it's never a good look when clients realize a team isn't in sync.
Document automation software also alerts businesses when a contract is about to expire, cueing employees to contact clients and reduce the need for more paperwork down the road. This demonstrates to customers that team members are on their toes and that they really care about the contracts - making for a better customer experience overall.
Translation
Many companies need to work across borders or with international clients at home. By automating translated versions of your contracts and documents, you can save hours of time (and a lot of money) translating them each time you produce a contract in multiple languages.
With next generation document automation, you are able to populate your documents with the date you need via a dynamic form, and then switch languages in one click. This makes it easy for global clients or partners to collaborate. Better yet, you'll be able to download the documents and contracts in your preferred language.
Managing a few contracts manually is bothersome. However working with hundreds of contracts a month by hand can be a logistical nightmare - causing a business to waste hours of precious time on tedious tasks. With document automation software, however, businesses can streamline the entire contract management process to save time and money - up to millions of euros, depending on the volume of contracts you draft each day.
But that's not all: with less need to print, scan, sign and repeat, document automation software could also help save your team's sanity.