Case study: how Primer Grupo saved €45,000 with Bigle Legal

By
Sergio Esteve De Miguel
·
2 minute read
Read about how Primer Grupo, one of the leading real estate providers in the region, achieved extraordinary results using the Bigle Legal document automation software.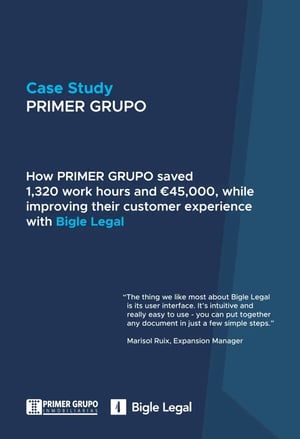 It is inevitable that as the company grows bigger, and especially if you are franchising, the volume of documents and contracts needed would grow even more. Primer Grupo wanted to ultimately automate this process and standardise it, saving themselves countless hours and a vast sum of money that is normally invested in the process, making it easier and quicker for them and their franchisees.
"The idea was straightforward: we wanted to help franchisees create contracts in two or three simple steps. However, we also needed to take all the legal variables and clauses each document had into account," - Marisol Ruix, Expansion manager at Primer Grupo
Primer Grupo is a network of real estate agencies that was founded in 1988. The company has grown to 14 franchises in the Valencia region and today it offers a wide range of high quality professional services, including:
- Purchase and sale of the property.
- Legal advice and assessment.
- Property management.
- Property valuation.
- Real estate marketing strategy.
The challenge that Primer Grupo wanted to tackle:
Primer Grupo wanted to make it easier and quicker for their franchisees to:
Collaborate.
Share and access information.
Easily update contracts when there are changes to the law.
Primer Grupo realised that there was a clear need to streamline and standardise the process of drafting contracts and documentation related to buying, renting and selling properties.
And as their objective has always been to offer the best service it can to its franchisees and their clients.
Bigle Legal was there to help with that.
Find out more about Bigle Legal
How Primer Grupo solved the problem
Bigle Legal's document automation platform was the ideal solution for Primer Grupo. Today, the team uses Bigle Legal's platform for a broad range of tasks, like:
- Create automatically all the legal documents they need.
- Easily update documents when the law changes.
- Collaborate online and offline.
- Analyse and track progress.
"It makes it much easier, each document has the correct client reference number or property number and all the right data loaded automatically," - Lidia Calvo, Director of Primer Grupo Inmokass
Read the entire case study of Primer Grupo.
What were the results?
Primer Grupo produces around 50 - 60 legal documents each month using the Bigle Legal platform, saving an estimated 1320 work hours (33 working weeks!) and €45,360 a year.
Bigle Legal have shifted the process from 120 minutes for each contract to simply 10 minutes of work, broken down in the table below: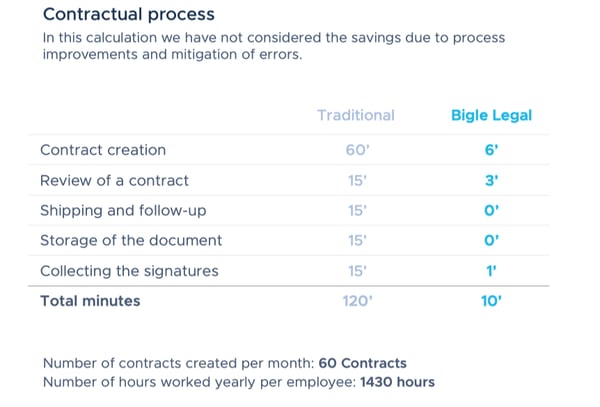 "We have more security and peace of mind. Our legal department can adapt our document templates whenever there is a last-minute regulatory change - and this updates all affected documents across our entire network of agencies".- Javi Martínez, Director of Primer Grupo Gran Vía.