5 key tools for remote work in 2020

By
Sergio Esteve De Miguel
·
4 minute read
The law of supply and demand is reshaping the global labor market again. There is an incredible rise in remote work practices and that is transforming the way companies operate and build their cultures.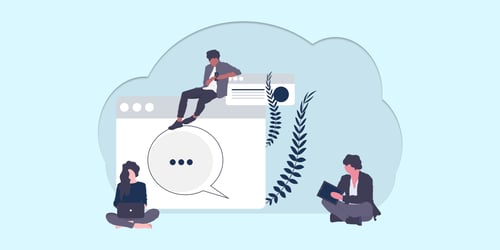 Tens of millions of freelancers are offering multiple content and administrative services every day. The latest Gallup Poll research has shown that in the US alone, 43% of the population log out-of-office time at least once per week of which 31% spends 4 out of 5 days out of the office.
However, Europe is a continent with the highest concentration of remote workers in the world, precisely 35,5% of them are located there while the next on the list are Latin America and Africa with 29,2%. And these stats are not surprising.
There are many factors that are forcing companies to reevaluate their administrative structure and project management tools they use and focus on remote work benefits.
One of those factors is the global Coronavirus pandemic (COVID-19) and that makes office work unsafe, therefore the remote option is better.
At the same time, climate change consequences makes it impossible for employees to commute to their workplaces, such as wildfires or severe flooding. But most of all, the new generation technologies are increasing efficiency and are offering solutions that maximize productivity and revenue like no tool before.
So here what we got for you:
We have compiled a list of best of these new generation technologies that will skyrocket your business for sure. Let's scan together their key features!
1. Slack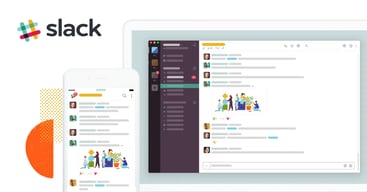 Source: Slack
This messaging tool has had absolute domination in the team communication and collaboration app market since 2013. Slack brings remote teams together, enabling every member of your team to discuss work projects in real-time and in one place.
It offers a user-friendly interface where you can split communication into channels, making each collaboration more focused and far from irrelevant information. Your teammates can inform whether they are available or not by switching their offline or online statuses, leave comments and share ideas so that every task can be completed efficiently.
Key features
Instant messaging: Slack enables 24 hours of live communication, enabling constant collaboration regardless of the time zone.
File sharing: To share files you only need to drag and drop images, PDFs and many other most used file types.
Statuses: Users can show their availability which enables them to focus more on their tasks.
Video & voice calls: It is possible to have direct as well as group video and voice chats.
Screen sharing: To make collaboration even stronger, Slack allows everyone to show their work by sharing their screens in real-time, making an extremely effective alternative to office work reporting.
2. Google Drive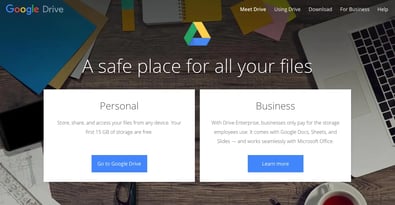 Source: Google
If you haven't done it by now, then immediately check this remote work tool. Google Suite is a cloud alternative to Microsoft Office and Microsoft Drive that works perfectly for both Macs and Windows computers. If you have Mac, you might have experienced that annoying legging and document freezing.
However, the more important benefit of this tool is that it offers 15GB file storage for free! You can store documents, spreadsheets and presentations. And if your legal team needs more storage, you can easily upgrade it.
Key features
Cloud storage: Your remote team now can create, share, upload and collaborate directly on files.
Document Types: Spreadsheet, Presentation, and Word Documents that are an essential part of every successful legal work process.
Collaboration: Google Drive completely outshines Microsoft Drive by enabling a real-time commenting on its files, ridding work process of time and space restrictions.
3. Status Hero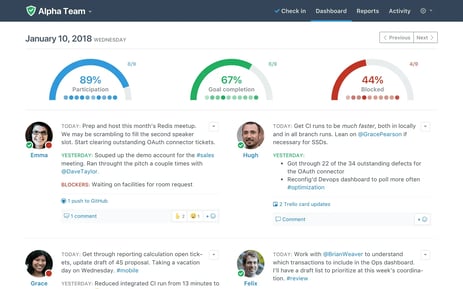 Source: Status hero
This project management tool takes productivity to a whole another level. By enabling team members to show their availability and block communication, it eliminates the possibility of workflow interruption, enabling everyone to be more focused on their responsibilities so everything can move swiftly.
Status Hero streamlines all project processes so you can easily oversee your employee accomplishment levels, making this a great team management tool.
Key features
Availability statuses: Your team members can inform each other whether they are "available," "away," "busy" and "unavailable.
Check-ins: Clear & quick description of what they are planning to do.
Time zones: It detects user time zones, helping teammates collaborate in different locations.
Project management: Every team member can check how many goals are completed.
Multiple teams: Managers can create multiple team groups.
Mood tracking: You can be aware of the emotional state of your employees.
Observer mode: Managers can get an insight into work progress without interrupting their employees.
4. Bigle Legal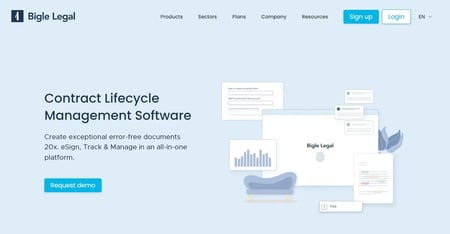 Bigle Legal is an exquisite legal technology that saves you enormous amounts of time and money. It is a document automation tool that enables you to create a legal document by simply filling up a short form. Additionally, it makes contracts client-friendly as it transforms them into clear forms that require only a couple of minutes of their time.
Your employees can send those forms to you to review and you can do that whenever you want and can. And you all can enjoy the benefits of digital signature that makes the whole collaboration a lot more convenient. So that, even if due to unexpected reasons you are confined at home and must work remotely, your activity won't stop and agreements will be closed as usual. Even faster than before, since it's only a matter of opening an email and signing in one click.
Key features
Document Templates: Don't waste your time on creating similar types of documents ever again.
Digital Signature: Signing a document now can be done at any time and even from the comfort of your home.
Document Review: Bigle Legal allows team members to share the documents with their superiors who can approve or disapprove a document draft.
Storage: You can collect all your documents on the Bigle software, eliminating the possibility of losing important information.
5. Toggl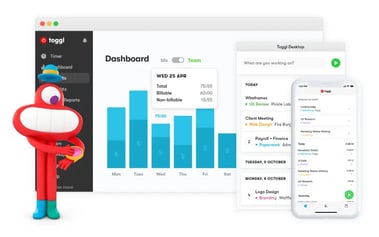 Source: Toggl
An excellent time-tracking app that allows you to document every anchor point of your work process. Toggl is a productivity tool that offers individual as well as group reporting so you are always updated on work completion.
The disadvantage of this project management tool is that you might get many notifications in your mailbox, however, they are most of the time relevant. On the other hand, the main advantage is that you can compare profits to time spent on tasks and labor costs. That simply sounds great, right?
Key features
Time tracking: Check the time your employees have spent on tasks.
Reports: Save the productivity and profits stats in your digital reports.
Cross-platform: Toggl is suitable for every operating system and works online perfectly.
Now that you have the right set of tools, you can start operating your remote business today.
Learn more about the next-gen Contract Lifecycle Management tool.