What is Robotic Process Automation? And how does it work?

By
Daniel Tomás Bartomeus
·
5 minute read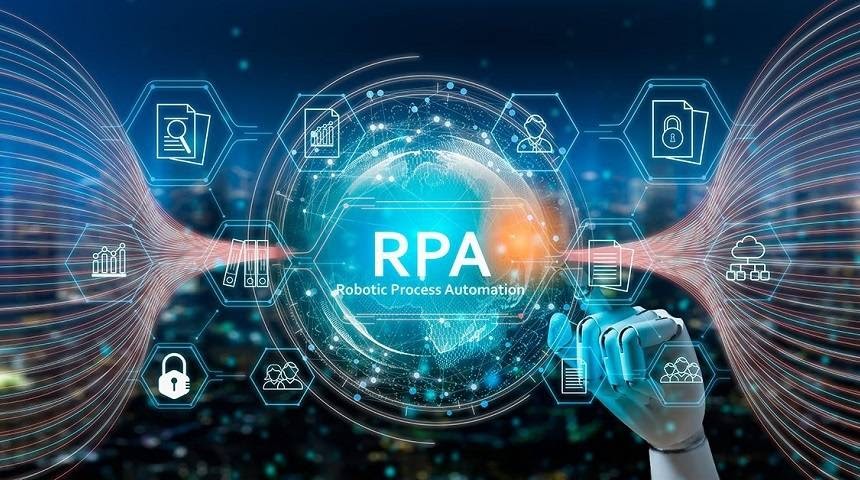 Source:
RPA
The revolutionary shift to robotic work is happening right now! You can choose to stick to the traditional business tools, or you can switch to incredibly efficient robotic process automation (RPA) systems. By employing this cutting-edge technology you will skyrocket your business opportunities due to your new role in the emerging market.
Robotic process automation is not a threat to your business or workforce!
Actually, it is a new generation tech solution that will improve your services and cut the processing costs by about 80% and crash the error rates to an amazing 0%! That is a lot of extra money in your pocket, right?
Therefore, let's check how the robotic process automation works.
1. What is robotic process automation?
Technology is the future! And robotic process automation might be one of the leaders of that change. It is undeniable that any advanced tech achievement brings new advantages and RPA does it, too. The best way to define it is to say that it implies all software tools that are designed to handle any kind of automated work processes that replaces human interaction and delivers requested results. They simply are a tech solution for traditional human work tasks.
According to the latest Deloitte research:
"RPA is a promising new development in business automation that offers a potential ROI of 30–200 percent—in the first year"
Robotics process automation technology replaces all the employee-based activities that are more mechanic, repetitive, and rule-based. To automate certain work processes, it is important that all of them are easy to repeat and have data storage that is highly structured and unchanged.
They need to be completely scripted and programmed to avoid any error and unwanted results. Therefore, think about who can be your trusted subject matter expert (SME) who can precisely map all those steps that the RPA system needs to remember.
When they know how to perform a specific action once, you can be sure that every next time you will get the same performance. Because that is how the robotic process automation works. It scans all the collected data, analyzes it, and provides the expected answers.
Thus, RPA is not intended for complex operations that value sentiments and unusual situations. It is made for the simplest standardized operations that require the most basic skills, yet require a lot of time and people interference.
2. What makes the RPA different from other automation tools?
With RPA, you are not replacing the existing business applications. You are enhancing them by adding a robotic subject that can manipulate the same data a human can, such as to fill the forms and send them to a specific department or a client. However, faster, cheaper, and with no mistake.
Therefore, robotic process automation software is different from the other traditional IT solutions as it leverages the existing infrastructure. It is not intrusive, it is just a fantastic upgrade.
3. The key benefits of robotic process automation
Now let's see how RPA benefits your business! The key benefit, you might agree after, is the cost. With RPA, you hire one chatbot or more to handle millions of requests. Similarly, one business management program can solve thousands of tasks. Therefore, one software cost compared to hundreds of employee payable hours sounds quite appealing, right?
By giving all the repetitive and annoying work to RPA, you make your employees happier, too. And we know that a happier employee provides better sales results. Now they have time to dedicate to more demanding tasks, express their creativity, and utilize their intelligence for higher achievements.
Before, there were always some mistakes in the complex administrative structure. The bureaucratic hierarchy was making communication and execution of the tasks a lot harder. Now, one solution source can guarantee that all the tasks are completed correctly and consistently while respecting the planned deadline. There is no room for the human error anymore!
The speed with which the RPA systems work is striking. Due to its ability to retrieve and find any kind of data quickly, it finalizes the requests faster than anyone expects. We are sure that your customers or clients would prefer to get an answer to their important queries as fast as possible. Thus, there is no space for a single customer problem that lasts for days, sometimes too long, anymore.
4. Where should you implement the RPA?
Robotic process automation is quite suitable for the tasks such as data entry, standard transactions such as invoicing, and simple customer queries such as "where is the buy option on the website." These actions and questions are happening so often that having a one robot solving all of them is priceless.
Observing it's functions we can suggest the following automations:
Log in to applications
Copy and paste of the data
Connect to apps' API's
Moving of the files and folders
Extracting data from structured and semi-structured documents such as PDf's, emails, forms, and websites
Reading and writing to databases
Calculations
Email opener
Businesses of all sizes are in a hurry to implement these extraordinary improvements, however large businesses with a massive work processes machine are projected to emerge dominant. They see the biggest benefits, so it is understandable. When it comes to the regionas, the US companies, especially its tech giants, are leading the RPA change, but Canada and Europe are not that behind.
5. Which Industries are a good fit?
RPA is easy to integrate, however some industries are a better fit than others. Imagine all the mess with payment transactions, everyday quoting, claims, and supply-chain procedures disappears? Utilities, banking, and insurance industries started loving the possibility that one RPA system can handle all the payments, invoicing, refunds, and other multiple financial transactions within seconds.
On the other hand, telecommunication companies are seeing an unbelievable RPA help in the customer service sector. It simply made every customer solution faster. However, anny industry that has an enormous customer service department can see this amazing ROI opportunity, too.
When it comes to the supply chains, the manufacturing industry has facilitated the distribution processes. Now companies can handle all the day-to-day quitting and client invoicing, account receivables, and payable operations with efficiency like they have never seen before.
And finally, the giant healthcare industry is a complete RPA winner. All those patient records, appointment settings, data entry and billing, and claim processing have now one source. A one tech employee that will make the patient experience better and overall health care service stand out.
6. What are the current experiences?
To understand better the true benefits of the RPA implementation, you might want to read about the true examples of it, too. We scanned the major RPA industries and found those companies that brought their business growth to a whole nother level. Moreover, they boosted their revenues so high that now it is easy to beat the profit from the company's golden years.
A bank has decided to rebuilt its claims system by deploying 85 bots that were supposed to run 13 processes and handle 1.5 million requests per year. This new bank's workforce capacity equals to over 200 full-time employees and lowers the recruiting cost for about 30%.
Next, a respectable Dell has employed RPA for its financial and HR work processes. A RPA system was responsible for invoicing, renewal quote generation, and some recruiting functions. The result of the RPA implementation is having extra $2 million per year.
A healthcare company Carner gave the task of migrating data from excel to electronic medical records to its RPA system. After 3 months of the RPA implementation, the company reported $130k benefits p.a. and terrific 628% higher ROI. Amazing, right?
Another financial company has programmed its RPA for payment processes. In only two and a half months they stated that their payment turn-around-time is significantly faster.
Australian financial company Sinergy has deployed more than 250 bots to handle transactional billing processes. During one year and three months they managed to save $2,3 million and drastically reduce error.
It seems like these companies are doing a good job by implementing robotic process automation systems. What about you?
7. How can you automate your legal tasks?
Legal tasks are part of any company's and industry's work processes. However, legal practices have the most of them. If you want to reduce your legal task costs drastically and eliminate human error, then the rest of the text is for you. We at Bigle Legal have a goal to rid your legal practice of all the repetitive work and give you more time for the tasks for which you specialised and spent many years studying about.
Now you can focus on winning a legal battle instead of focusing on trivial tasks such as filling a form or chasing a client to sign a paper. With our RPA system, you can have all the forms within seconds and use document templates that you create only once. When it's time for a client to sing it, you can just send him a document with an e-signature and your job is done!