Project management: the key to the success of your team's plans

By
Bigle Legal
·
5 minute read
75% of lawyers struggle to cope with their daily tasks, something that is changing thanks to technology and proper project management.
Project management is a concept that is becoming increasingly important in legal teams, where managing projects is usually a complicated task. With 75% of in-house lawyers struggling to cope with their day-to-day tasks, managing people, resources and time in the legal department is becoming increasingly necessary.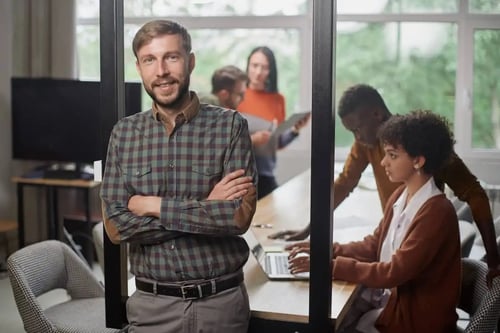 In this blog post, you will find:
What is project management?
From project management to legal project management
The four stages of legal project management.
Technology that will help you in your project management
Benefits of project management
What is project management?
The term project management is used to refer to the planning, organisation, motivation and management of resources to develop a certain product or service in order to achieve specific objectives. It is based on planning a project, scheduling it, monitoring it once it is underway and reviewing it at the end. Based on this concept, project management requires four essential components to be taken into account for the successful completion of a project:
Plan in advance.
Monitor the progress of ongoing projects.
Manage the progress of the project.
Share the development of the project with the key stakeholders.
From project management to legal project management
Applied to the legal department specifically, legal project management is a term that describes the strategy applied to develop a specific product or service in a legal context. A proper strategy consists of four concrete phases or steps that are worth considering.
Benefits of Project Management for the legal area
The main contribution that project management offers to the legal sector is effectiveness and organisation. It is a fundamental tool for legal teams to offer more complete services to both other departments and their clients. It is about carrying out all phases of legal projects in the most standardised and effective way possible.
In addition to streamlining and making current tasks more efficient, this standardisation helps set precedents for future projects, making it easier to carry out certain tasks when building on projects that have already been developed. Legal project management is carried out in four stages.
The four stages of legal project management
Admission
Launch a new project and define objectives.
The legal department receives a task or service request, motivated by another department or by a new need that arises in the legal area. The requirements of the project and how to achieve the objectives should be analysed.
In this step, the scope of the project should be assessed in as much detail as possible, and then an in-house lawyer is assigned to manage the project to ensure that it progresses as planned.
Planning
Define the client's requirements, develop objectives, set a time frame and allocate a budget.
Having described the project in broad terms, it is now time to define more specific points. With the proposal defined, it is necessary to evaluate and assess how to carry it out more efficiently. In addition to the person in charge, in this phase tasks are assigned to the necessary staff and the procedures, tasks and next steps.
Implementation
Monitor the project from start to finish, track the use of both physical and financial resources, design a schedule and monitor the outcome of tasks.
After developing the plan, it is time to implement it. The different tasks and steps must be monitored so that the development of the project is as much in line as possible with the plan that has been previously prepared. You will be able to control the development of the project by setting up regular meetings, monthly or weekly, to analyse how the project is progressing and observe possible deviations or risks that need to be addressed.
Risks or unforeseen events of various kinds are likely to arise, so it is necessary to have a second way of working or an alternative plan B in order to move forward.
Review
Evaluate the success of the project, recognise areas for improvement and implement changes in future projects.
Despite having closed a project, it is a mistake to move on to the next one without pausing for a moment's reflection. But it is essential to evaluate what has worked and, conversely, what has been a mistake in order to improve on future occasions.
The ideal time to do this is just after completion, although it is estimated to take 45 days, so that it is still fresh in our minds and so that this evaluation task is effective. The key is to evaluate the above steps point by point and assess how well they have worked in order to put more emphasis on those that have gone less well.
Technology that will help your project management
Once the theory is clear, let's analyse which technology is the best suited to carry out the legal team's projects in corporations.
CLM: a complete solution to streamline project management
Legal departments are ultimately responsible for overseeing the correctness and compliance of your company's contracts and legal documents. This type of document is used on a daily basis, both in the legal department itself and in all other corporate departments. They are necessary to carry out projects of many different kinds, as well as to seal strategic decisions.
A Contract Lifecycle Management (CLM) solution is a tool to make the day-to-day work of in-house lawyers, as well as other company employees, much simpler and more effective. This solution enables the automated creation of tailor-made legal documents in a matter of minutes. In addition, from a single cloud platform, it facilitates collaboration and review processes, as well as offering an advanced electronic signature to seal contracts.
In terms of project management, it represents a revolution in the way legal documents are worked with, in order to move forward quickly and obtain more efficient results in a task that, in the traditional way, takes a long time and is tedious to the in-house lawyer.
Task management software
Task management or project management software assists legal professionals in organising their projects. This type of solution makes interdepartmental collaboration easier, as it assists teams by centralising the different tasks and sub-tasks required for a project on a single platform, establishing deadlines, helping to share files, etc.
There are a multitude of applications that assist in project management, let's look at three of the many solutions available on the market:
TeamWork:

a business management software designed to optimise the way teams work in companies, present in 184 countries, which stands out for its attention to customer needs.

Asana:

Manage projects as a whole by unifying files, dates and communication between people in a single platform. It facilitates monitoring, collaboration, meeting deadlines and communication between teams.

Trello:

The tool allows you to manage projects by setting up workflows from start to finish, while automating the most tedious workflows. In addition, it is suitable for all types of sectors.
In any case, it is advisable to use one or more software comparators to find the right solution for your department's needs. In case your company works with remote teams, both the CLM and the task management solution will help you to keep order in the development of your legal department's projects.
Benefits of project management
A proper project management strategy, accompanied by technology that streamlines and secures all kinds of routine tasks in the process, will make your legal department's projects more successful for several reasons. Firstly, it will help you achieve your objectives better and faster, and keep the other teams involved satisfied.
Likewise, the legal department's risk management of the legal department (and thus the company's risk management) will improve significantly: with a clear strategy and greater attention to detail, compliance is improved and the security of operations is enhanced. Even more so if there is software from which to monitor each step of the process, restrict access or editing of contracts to authorised persons and securely sign documents electronically.
In addition, thanks to the right project management, it will be easier for the team to adjust the budget and reduce process costs while, at the same time, being able to better calculate the benefit that a project will bring to the departments involved. Once again, technology maximises the gains for all parties involved, optimising resources and simplifying tasks to focus efforts on the added value of professionals.
Reflect on how projects are carried out in your company, empower them through project management and technology, and get your team working with unstoppable synergy to differentiate your company from the competition.