How to save energy through technology and ESG criteria

By
Bigle Legal
·
2 minute read
Modernising tools and work processes is essential to achieving sustainability in companies from all kinds of sectors
Energy costs make headlines at a time of crisis on the European continent. All eyes are on the price of electricity and the kilowatt is a unit of measurement to which we have had to become more accustomed than we would have liked.
Considering the value of energy, which has increased exponentially in recent months, using it wisely is becoming increasingly necessary for businesses The ESG (Environmental, Social and Governance) criteria are a useful guide for companies to act sustainably and save on their energy bills.
How can companies save energy?
Analyse ways of using energy
Modernise work tools
Boost ESG awareness in your company
Use state-of-the-art technology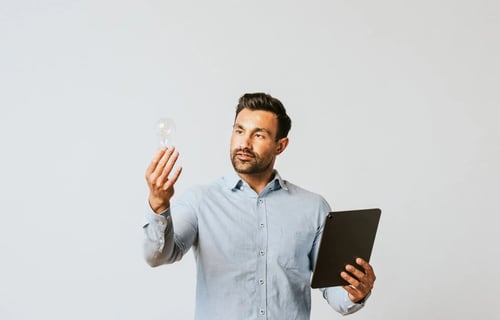 1. Analyse ways of using energy
One of the main guidelines of the ESG criteria is that companies should maximise energy efficiency in their different systems and infrastructures, in order to strive for a more sustainable environment. Using presence detectors for lights, whether in toilets, communal areas or offices, helps to eliminate unnecessary lighting costs in these spaces, so it is highly recommended to implement them if this has not already been done.
Cooling systems are another tool to take into account. On the one hand, using air conditioning in an intelligent way means saving on electricity bills, something for which there are various recommendations for use. On the other hand, and despite their different operation, fans offer an energy-saving alternative to be taken into account, as they consume up to 90% less energy.
2. Modernise work tools
Progress is moving towards a technology that consumes less and less energy, and those older devices are the ones that add the most euros to the electricity bill. Energy efficiency is reflected in such widespread developments as LED lighting and the use of laptops instead of desktops.
Laptops can consume ten times less energy than desktop computers. An investment in modernization is an expense in the present that results in considerable savings in the long run.
3. Boost ESG awareness in your company
Implementing new equipment and office infrastructure that is energy sustainable is key, but so is the company's awareness of sustainability. Establishing clear ideas on ESG will shape the company's future with regard to the topical issue of the environment.
If the company aims to be sustainable and wants to save energy, it must set targets in a strategic ESG plan. It is key to raise awareness among its employees and set an example of the measures taken by management so that the whole company commits to saving energy. This is closely linked to following personal energy-saving recommendations to make more responsible and efficient use of energy in everyday life.
4. Use state-of-the-art technology
Technological development, once implemented, change old processes, as well as the means used in them. It is the progress that technology brings to different sectors and to everyday life, helping not only to economise human efforts, but also the energy expenditure used at work.
Energy efficiency is continuously sought after, so why not analyse daily tasks and processes to look for improvements? Contract Lifecycle Management (CLM) technology drastically reduces the effort and time spent working with documents of all kinds, thereby reducing the resources used.
The use of paper must be reduced in many sectors and technologies to achieve this, such as electronic signatures, already exist. CLM includes this functionality, which is more secure and effective than handwritten signatures but also helps to save resources at other points in the document process: the physical storage of documents, the printing of more and more drafts for corrections or the daily use of paper in many daily tasks.
Reducing resource and energy consumption depends on the everyday and the strategic, on small saving gestures and on a global ESG awareness in companies. With the best technology, it is possible for companies to take the step towards a sustainable future.