Contractual risk: how to identify, manage and mitigate it

By
Bigle Legal
·
3 minute read
CLM's technology addresses the contractual risk associated with legal documents and brings real control to companies' law departments.
Legal documents are part of everyday business life. So is the contractual risk associated with them. Contracts serve to formalise, record and move towards multiple objectives, so working with them is a very delicate task and neglecting them or paying little attention to them becomes a very dangerous trend for organisations. Contractual risk exists at every stage of contracts, but organisations can anticipate and mitigate it through Contract Lifecycle Management (CLM) technology.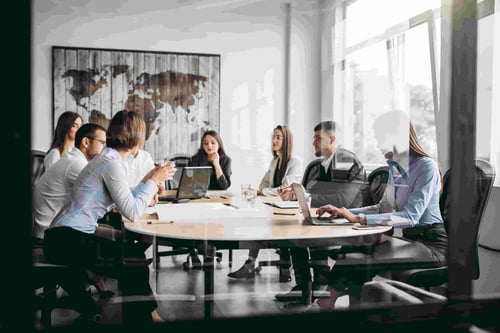 From human resources departments, which manage the employment contracts of each employee, to sales departments, which seal deals with new customers, even for any business area that has to engage the services of an external provider, working with contracts requires proper risk management of legal documents.
But what is a contractual risk?
Contractual risk can be defined as the possibility of incurring financial loss or other penalties as a result of a party's failure to comply with the essential terms of a contract. This non-performance translates into contract execution risks - the possibility that terms will not be met and obligations will be breached - economic risks -the failure of one of the parties to fulfil the financial obligations of the contract - or reputational risks, bad relations with third parties, etc.
Contractual risk comes in many ways
The clarity in the document and the effectiveness of the contract generation process are key to avoiding the above risks, but the reality is that the vast majority of legal departments are overloaded with work, this reduces the time spent reviewing each contract and exposes organisations to multiple risks.
Contractual risks extend to all four phases of the negotiation of these documents, in different forms. From the preliminary phase, through contract negotiation, execution and termination, legal documents are alive and exposed to multiple views and modification.
The choice of the contract model is the first step that exposes both parties to risks as it may not meet the specific needs of the parties or may be out of date with current legislation. The same is true for contract processes that are carried out in the traditional manual way, which leads to errors in the drafting of the contract, in the communication of the contract or in the signing of the contract. Not to mention the late preparation of the document, which can lead to the loss of a business opportunity.
Technology as a differential factor against contractual risk
As explained in our ebook "Best practices in legal operations", CLM technology helps companies in all sectors to mitigate contractual risk at different stages of the contract lifecycle.
Legal technology helps, among others, in four main ways to mitigate contractual risks:
Keep your contracts up to date
Make sure your contracts are aligned with current legislation and adapted to the relevant regulatory environment. If you need to make a change to a clause that applies to hundreds of contracts in your organisation, forget about doing it one by one: CLM allows you to apply changes to all contracts at the same time.
Control the different versions of the document and update all of them from a single platform in the cloud. It centralises knowledge so that there are no lost documents in other areas of the company and eliminates unnecessary risks.
Limit access to contracts
Control who in your organisation has access to contracts, from a single cloud platform, managing permissions and roles according to your needs. It defines who can read or edit documents or contracts, preventing them from being read by unauthorised persons and minimising the risk of a security breach and access to confidential information.
Decentralise the creation of legal documentation
The legal department can analyse the types of templates used in the company and convert them into a smart form with the no-code technology provided by the Document Automation module of a CLM.
It has them centrally available in the cloud and employees who need to create contracts only have to fill in a simple form with all the options provided in advance by the legal department. In one click, they have a tailor-made contract with the full assurance that it meets the standards set by legal counsel.
Use alerts for effective monitoring of the contract lifecycle.
CLM visualises the status of each document (e.g. pending validation, sent for signature, signed, pending renewal, etc.) and uses alerts to help our future selves.
Thanks to a control panel with a filtering system, it is possible to visualise which alerts will be notified in the coming weeks, months, etc. Which contracts are expiring, and which ones need to be reviewed? And extract reports so that everything will be spun out and there will be no loose ends.
Contractual risk is a constant reality for organisations, so mitigating it as far as possible becomes an obligation if the security of the company is to be guaranteed. Find out how Bigle Legal's CLM can help your company secure contractual processes and take your legal operations to the next level.