Legal innovation drives one of LATAM's leading law firms

By
Bigle Legal
·
2 minute read
Torres Legal is a law firm based in El Salvador, Central America, that offers international legal services, combining the experience and practical knowledge of a traditional law firm with the current needs of innovation and technology. So much so that it is one of the most technological firms in Latin America. Founded in 2010, Torres Legal has a group of lawyers and notaries who offer legal advice that is characterised by its proximity to their clients.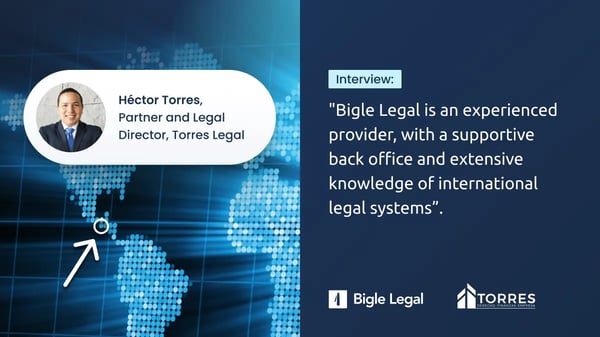 In order to find out how they have focused the digitisation of their legal operations, we spoke to Héctor Torres, managing partner of Torres Legal. He tells us about the keys that have made it one of the leading firms in LATAM, thanks to its innovative spirit and our Contract Lifecycle Management (CLM) technology.
"In a highly competitive scenario, where attracting, training and retaining talent is a challenge for law firms, a document automation tool is essential for lawyers to perform their role as business advisors." Hector Torres, Partner and Legal Director, Torres Legal.
Can you describe your company's activity?
We are a firm that offers everything from legal services to specialised business services. We were founded in 2010 and, since then, we have sought to rely on technology to be more efficient; along these lines, we have been the first legal services firm in Central America to be certified and recertified annually under the ISO 9001-2015 standard.
One of the firm's fundamental bets is the mastery of the relationship between law and new technologies in its broadest concept. The company has registered crypto-investor partnerships, as well as copyright protection of NFT and other digital assets.
From El Salvador, we coordinate work in many other countries around the world according to our clients' needs, from M&A transactions, ICO's, to vehicle transfer agreements.
What was the challenge and what was your main problem in coming to Bigle Legal?
Some of our clients are in the financial and real estate sector and have a high volume of standardised and daily trading. The alternatives were: a) to hire more staff; b) to overload existing staff; or c) to look for a reliable document automation solution. Being faithful to our idea that technology should be a strategic ally, we turned to Bigle Legal for its dynamism and seriousness in tackling these projects.
Why did you choose Bigle Legal and how did you get to know us?
After researching various providers, we found Bigle Legal to be the most experienced, with a back office willing to support us, with a solution in Spanish and an excellent knowledge of the different international legal systems, so it was easy for them to adapt to El Salvador's system.
What are your strengths in innovation?
I would highlight our 100% commitment to technology and innovation as a way to provide more efficient services to clients and our business vision, which seeks to ensure that we think, in addition to legal matters, about what improves the bottom line of our clients' balance sheets.
How do you use our CLM solution, what tasks and what features or functionalities are most valuable to your team?
We use it mainly for bank contracting, but we hope to incorporate its use in other areas of the firm. What we have achieved is to reduce the number of people involved in the preparation of contract documents, as well as the time spent on the preparation of these documents.
What have been the results so far using Bigle Legal's CLM?
The most concrete results are the improvement in document processing times, the reduction of errors and the reduction of training time for new recruits in the recruitment area.
Have you achieved the objectives you set when you hired Bigle Legal?
We have achieved several of them, especially in those departments of the firm where there are documents that are produced on a daily basis. It is key that the team that uses the tool now, in 10 minutes, achieves a job that used to take them 1 hour.
If you had to highlight one feature of Bigle Legal, what would it be?
I think I would highlight that Bigle Legal has an excellent customer service team.